Contact Us
About Accu Chrome Plating & Grinding
A History of Chrome Plating Excellence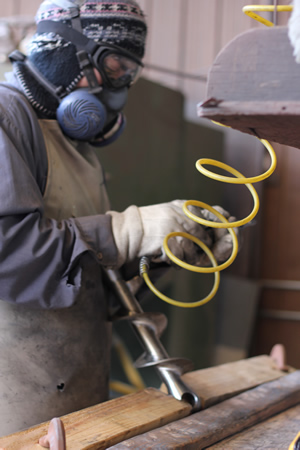 While Accu Chrome has been providing high quality, full-service hard chrome coating solutions for nearly 40 years, our company's roots in the industry date back even further. The original incarnation of the company that would become Accu Chrome had been working as a chrome plating shop for many years before our founders bought the company in 1977.
We were fortunate enough to have the original owner stay on board with the newly-created Accu Chrome for a long stretch. He helped us perfect our processes, and his extensive knowledge of and expertise in hard chrome plating, combined with our own skills and know-how, gives us a level of hands-on experience that other plating shops can't match.
Today, we employ a skilled and experienced staff and utilize state-of-the-art equipment, all in the name of delivering the best hard chrome coatings for your unique needs. Request a quote for your chrome plating project, or contact us for more information.
Capabilities
Accu Chrome offers complete, start-to-finish hard chrome plating. All services are provided in-house, allowing us to closely monitor every step and ensure that each process is performed at the highest possible level.
Our hard chrome plating processes include:
Inspection of incoming parts/components to determine best plating method
Stripping or removing chrome
Cleaning of parts
Grinding, as needed
Masking (if necessary)
Hydrogen embrittlement for stress relief
Additional cleaning with specialized solutions
Etching bath in chrome tank
Hard Chrome & Flash plating
Polishing/finishing
Quality inspection and certification
We can provide hard chrome coatings as thick as 0.100" on almost any metal substrate. Or as thin flash chrome as ± 0.0002", for all plating projects.
Standard turnaround times are roughly two weeks/10 business days, though times can vary based on the parts at hand and the plating processes required. Expedited turnaround in as little as one day may be possible in extreme "emergency" circumstances.
Standards
Accu Chrome's hard chrome plating and hydrogen embrittlement processes meet the requirements of numerous industry standards, including:
AMS 2460 (including all sub-standards)
AMS QQC320 (SQQC320B; Class 1, Class 2)
AMS 2759-9
AMS 2438
AMS 2759/11
Additional Information
For more details on our hard chrome plating processes and capabilities, or to learn what we can do for your chrome plating project, please feel free to call 310-327-8268 or contact us online. We look forward to hearing from you!